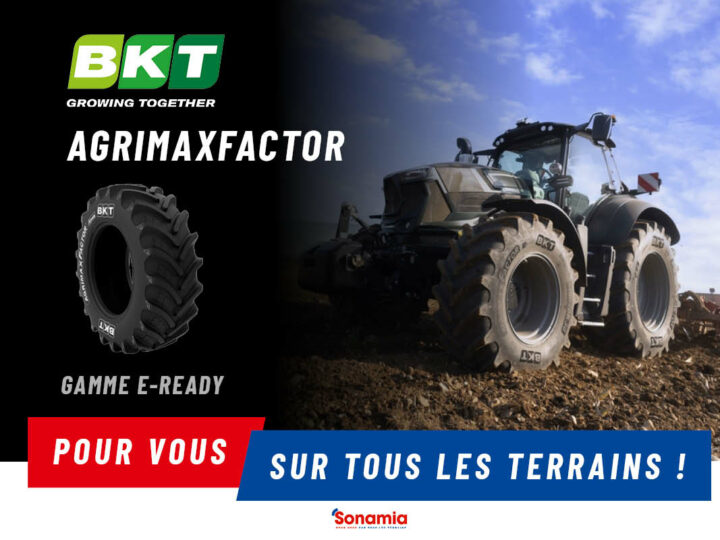 DISCOVER THE NEW SERIES 70, AGRIMAXFACTOR FROM BKT !
Unveiled a few weeks ago at SIMA (Salon International de la Machine Agricole), the first "E-Ready" tire, the AgrimaxFactor, is designed to meet the development of electric vehicles and their specific needs.
When equipping an electric vehicle, a number of factors need to be taken into account: weight, motor structure, range and noise.
Because of the extra weight of electric vehicle batteries (up to 30% more), tires have been designed to withstand heavier loads than conventional vehicle tires. To achieve this, the tire structure has been reinforced, especially the belts and carcass. The tire sidewalls and beads have also been specifically designed to meet these increased strength and toughness requirements.
Electric vehicles tend to wear tires more quickly than combustion engine vehicles during mechanical transmission.
To counter this, the bead structure and tread have been optimized to guarantee longer tire life.
Noise reduction is a crucial aspect for electric vehicle tire manufacturers. BKT has therefore developed tread patterns with compounds specially designed to minimize noise, using both natural and synthetic materials. In addition, tire sizes have been designed to reduce noise.
AgrimaxFactor's advanced technologies meet these requirements, offering high load capacity, increased wear resistance, low rolling resistance and a significant reduction in noise levels.
This tire has been designed for tractors, ideal for transport and tillage.
The tread has been improved, with a longer stud length and a modified stud orientation to ensure maximum grip on all surfaces and flexibility when driving. This tire offers excellent stability and more precise steering even at high speeds or with heavy loads, without compromising braking capacity thanks to the robust polyester carcass.
As a result, users can enjoy the benefits of conventional tires adapted to the new technology of electric vehicles.
The AgrimaxFactor features are available in several sizes: