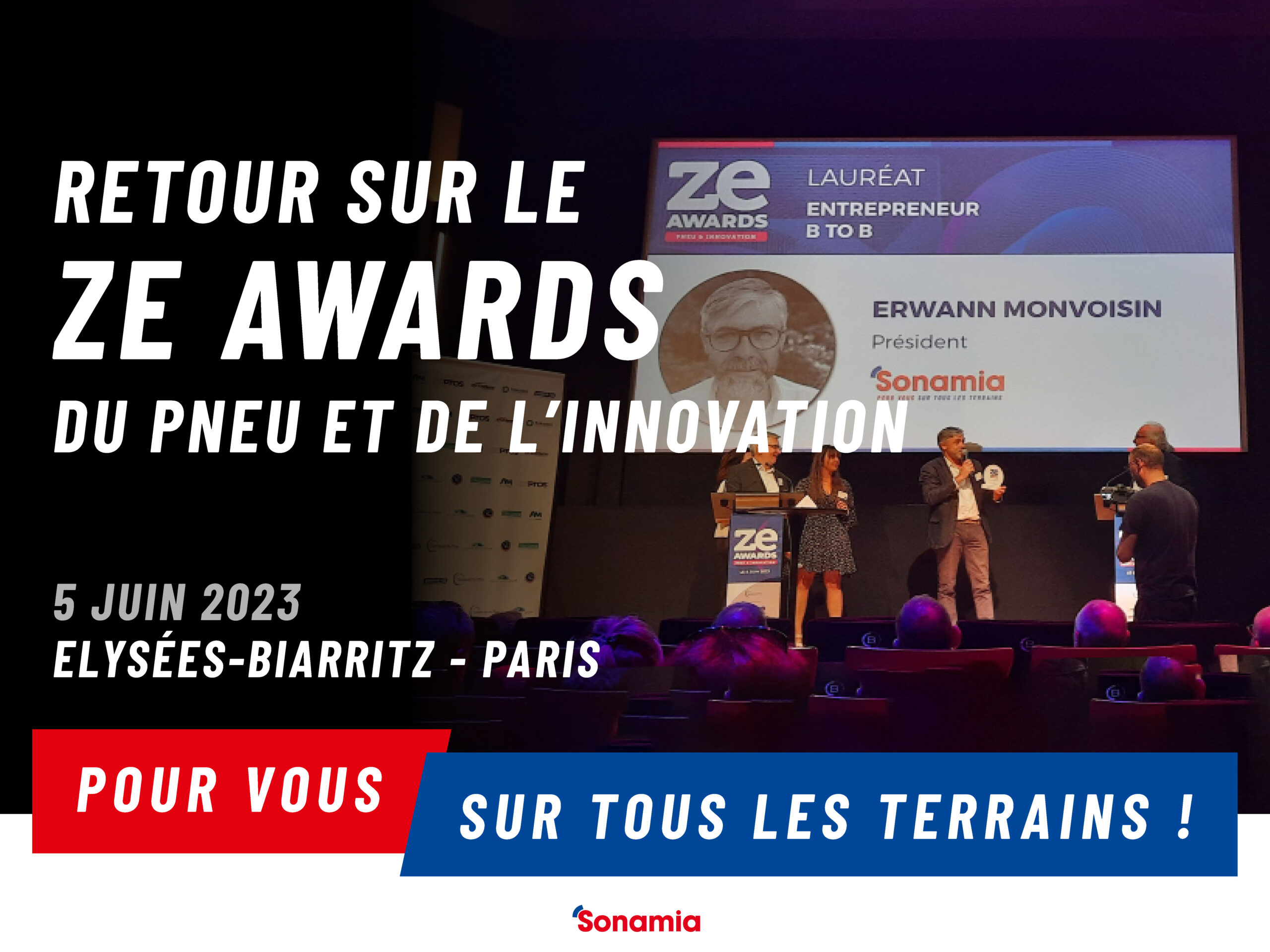 SONAMIA B2B ENTREPRENEUR OF THE YEAR AT THE ZE AWARDS FOR TIRES AND INNOVATION
We are extremely proud and pleased to announce that SONAMIA has been honored with the prestigious BtoB Entrepreneur Award at the first edition of the Ze Awards, an event organized by Zepros and the Syndicat du Pneu. This distinction is a true recognition of our company's excellence in the sector.
The awards ceremony took place on June 5 at the Elysées-Biarritz in Paris, and was attended by over 150 people from the tire industry. Attendees included tire networks, independent dealers, manufacturers and industry representatives. This memorable evening was an opportunity to celebrate the innovation and success of the industry's entrepreneurs. The Ze Awards du Pneu singled out eight of the industry's most innovative entrepreneurs, rewarding their outstanding contribution. Categories included:
Technological Innovation Award,
BtoB Entrepreneur Award,
BtoC Entrepreneur Award,
Industrial Product Entrepreneur Award,
Award for Innovation in Materials, Equipment and Digitization,
CSR Initiative Award,
Award for the Recruitment – Training initiative,
the Award for the Personality of the Year 2022/2023.
SONAMIA stood out from the three nominees in the BtoB Entrepreneur category. SONAMIA was chosen for its 60-year history and solid market presence. We also highlighted our 25-year partnership with BKT, which has played a key role in our success and positioning as a trusted distributor. The award to Sonamia marks an important point in our history. Indeed, we are the first to receive this prestigious award, which testifies to our commitment and expertise in the field of BtoB entrepreneurship.
This award is the fruit of the hard work of our teams and their dedication to providing quality service to our customers. We are aware that this success would not have been possible without your exceptional contribution and commitment. We warmly congratulate you on your involvement and determination, which have contributed to this success. More than ever, we are determined to pursue our mission and write a new page in our history. Our aim is to continue to work rigorously and offer services of excellence.
This recognition at the Ze Awards is an honor for us, but it doesn't mean that we'll stop here. On the contrary, it reinforces our determination to remain at the forefront of innovation and entrepreneurship in the tire industry.
We would like to congratulate all the nominees and express our sincere thanks to Zepros and the Syndicat du Pneu for organizing this exceptional event. Their initiative to reward the most innovative entrepreneurs in the tire industry is of great importance in stimulating creativity and excellence in our industry. We are proud of this distinction and will continue to write our story with passion and tenacity. We look forward to sharing our new achievements and continuing to offer quality services to our customers.